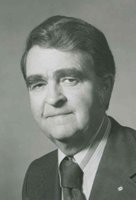 Art Shanks
James Arthur (Art) Shanks of Smiths Falls passed away February 26, 2021 at St. Patrick's Home in Ottawa. He was in his 97th year. Art was born to Clarence and Emily Shanks (nee Carscadden) and raised in Smiths Falls before enlisting in the British Commonwealth Air Training Program in 1943. Following his service he attended the University of Toronto, graduating with a degree in Pharmacy. He married Velma Margaret Braden (predeceased) in Toronto in September of 1951 and started his career in Deep River, Ontario before returning to Smiths Falls to open McShane and Shanks Pharmacy in 1961. Art loved his calling as a pharmacist, particularly engaging the many familiar faces that frequented the drug store where he worked seven days a week. Sunday mornings he could be found at St. Francis de Sales Church were he was a member of the choir as well as a member of the Knights of Columbus. He was also fond of horses, often including "Tommy"--his grandfather's horse--in tales of his early years in Smiths Falls. He continued this passion later as an owner of standard bred race-horses.
Art is survived by his sons Tim (Charlene), John Paul (Cauleen), Mark, and Rob; his five grandchildren Jamie and Casey Shanks, Shannon Lavoie, Jacob Coville and Colin Shanks; his eight great-grandchildren Hunter and Henley Shanks, Wesley and Austin Shanks, Aila and Teo Lavoie, and Olivia and Payton Coville. Art was brother to John (predeceased), brother-in-law to Elaine Shanks (predeceased), and Uncle to their girls Linda, Jill, and Wendy.
A private family gathering to celebrate his life will be held at the Blair and Son Funeral Home, Smiths Falls, followed by a family interment service at St. Francis de Sales Cemetery. Memorial donations in Art's name may be made to St. Patrick's Home.