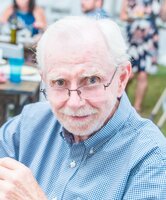 Thomas Joseph Freeman
It is with great sadness that the family of Thomas Joseph Freeman announces his passing on Monday, November 21, 2022 at the Smiths Falls Site of the Perth and Smiths Falls District Hospital at the age of 76.
Tom was born in the same hospital on November 18, 1946, the second child and first son of Hubert Patrick Freeman and Mary Leona McNamee. He lived in the same white frame house in the village of Toledo for almost his entire life. He is survived by his sister Maureen Yandon (John) of Barrhaven and brothers Dennis (Kathleen) of Toronto, Joseph (Ruth) of Whitby, and Kevin (Cindy) of Brockville. He is also survived by a sister-in-law, Cindy Freeman of Toledo and was pre deceased by a brother, Patrick, in 2004. Tom will be sorely missed by his nephews and nieces Michael, Matthew, Alex, Allison, Caitlin, Colin, Julia, Bronwyn, John, Siobhan, Roddy and David; and also survived by 14 great-nieces and nephews, soon to be 15.
After graduating from high school, Tom worked at DuPont's Maitland works before returning to school and graduating from teacher's college in Ottawa. He was a longtime high school teacher with the Carleton Catholic School Board. Tom had a lifelong interest in local history and could give a detailed accounting of the history of nearly every property in the original Kitley Township. He was a lifelong parishioner at St. Philip Neri Roman Catholic Church and was instrumental in restoring the old cemetery at the site of the original church, at Bellamy's Mills. He loved his community and was never happier than puttering around his garage or on his land outside the village. He loved playing poker and euchre and looked forward to hosting his friends and family at his annual Boxing Day card party. Tom will be sadly missed by so many friends and extended family in the Toledo and surrounding communities.
Tom's Memorial Mass of Christian Burial will be held at Noon on Saturday, November 26, 2022 at St. Philip Neri Roman Catholic Church in Toledo. Interment will take place at the parish cemetery. A reception will be held in the Toledo Legion Hall Branch 475 following the interment. Those wishing to make a donation in Tom's memory, are invited to send them to St. Philip Neri Roman Catholic Church, 282 County Road #8 Toledo, Ontario, K0E 1Y0.